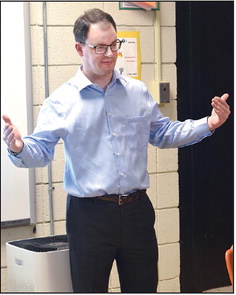 KALB TV Meteorologist Barrett Phillips visits GPMS Third Graders
I want to begin this month's column by thanking you for being a part of our school system. Whether you are a student, a parent, an employee, or a member of our community, you have all played a part in the successful start to our school year.
This year our focus is building upon the successes we have had as a school system and increasing the opportunities we give our students. In addition to academic improvements, we have increased the number of clubs, activities, and organizations our students can enjoy. Just in the last two weeks our students have been able to enjoy gardening, cooking, art, choir, music, science, foreign language, jewelry making, reading, band, drama, computer, and life skills to name a few.
You can expect even more of that moving forward. Our employees have embraced our goal of doing even more for our kids, and for that I am grateful. They continue to put their heart and soul into what they do, but also even more time and effort. Because of them, our students enjoy being able to be a part of more opportunities when they come to school each day, and it is evident in our attendance. Our daily attendance is up from this time last year, climbing to 94%.
I appreciate the investment you have already made in the education of our students. I know we could not do it without you. The upcoming October election brings an opportunity to continue to do so.
The 1% sales tax proposal on the ballot is important to our school system for several reasons. The safety and security of our students and employees is at the forefront of this proposal. We need school resource officers on each campus, and the passage of this tax would provide the funding necessary to cover the salaries and benefits for nine SROs. We need to add perimeter fencing at each campus, along with a single-entry point for each building. Our schools are unique and most were built during a different time in our history; but, we must face the realities of our present day: our schools need to be safer.
Funds generated from the proposal would also go towards improving employee pay and improving the condition of our facilities. Every building, like your home or business, requires regular upkeep. Our schools are no different. The funds generated from this tax will be used for renovations to buildings, new construction on some parts of school campuses, and upgrades to heating, electrical, and plumbing systems. We want to improve the spaces used by our students and convert some of our standard classrooms into STEM and Science Labs so kids can build things, experiment, and use their hands in addition to their minds.
I know that strong communities and strong schools go hand in hand. Thank you for all of the support you have given our school system, and I look forward to continuing our partnership in the years to come.
See you out there!