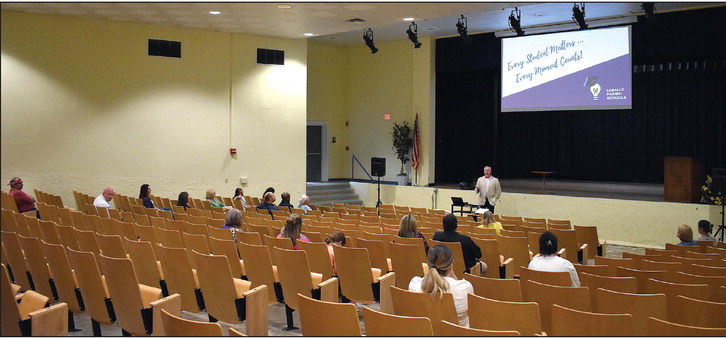 School Tax Forum Held
Around 20 people attended a forum at LaSalle High School Thursday night, September 21, as LaSalle Parish School Superintendent Jon Garrett provided an overview of the benefits of the school system's one-cent sales tax proposition that will be on the October 14th election ballot.
The proposition that LaSalle Parish voters will vote "yes" or "no" for includes provisions about the distribution of the money, noting that 50% will be for construction and maintenance of school buildings, 25% for school safety and security and 25% for employee supplemental pay. It is a one-cent sales tax for 15 years.
At the forum last week, Garrett highlighted the many achievements the school system has accomplished and noted that for the system to continue its progress, the money generated from the tax is needed.
"Our school system has seen many accomplishments over the last several years," the Superintendent said. "We are a B-rated school district, we're ranked the 17th highest performing district in the state, we are Top 10 in the state for kindergarten-8th grade academic performance, have extremely high graduation rates and we also excel with our many extracurricular programs, including championships."
He then proceeded to outline the various ways the money generated from the proposed sales tax would be used, highlighting the need for improved employee salaries first.
"The projected supplemental pay for degreed personnel (positions requiring a degree) is $1,715 and non-degreed personnel is $1,200," he said. "This is based on the sales tax bringing in $2,500,000 annually."
Garrett noted that currently, LaSalle Parish has the lowest average teacher salary among neighboring parishes and in the state, LaSalle is ranked 66th out of 71 school districts.
School Board Member for Ward 3 Fred Book noted that paying teachers good salaries is very important to maintain the valuable educators the parish currently employs.
"I just want to say just how very important this tax is," Book said. "This will affect all of our children."
Garrett also informed those present that the 25% for school safety and security would be to provide school resource officers at all nine parish schools, construct perimeter security including fences at all campuses and provide single-entry access points for all buildings.
Book noted that being able to provide the additional security for staff and students in this day and age is very important.
"Just one child's life is worth every nickel we spend to try to make it safer because you can't replace that," he said. "Years ago, we didn't have to worry about safety for our children but now you never know. Living here in the country we never think about that but it could happen here like it happened in Texas and everywhere else."
Finally, Garrett outlined what the school system is planning on doing with the money generated from the final 25% for construction and maintenance. He went through a list of the top three items at all nine schools that will he said will be a priority for the system to construct when the tax is passed.
Everything from campus maintenance and beautification, to infrastructure upgrades, to capital improvement projects were listed.
He also noted that the list is not comprehensive and the list would be expanded as needs are identified.
"We need to keep our schools up as best we can to give them (students) the opportunity that they're getting in other places," Book added. "But we can't do that without a tax."
The Superintendent thanked everyone for coming to the forum and encouraged everyone to support the tax proposition October 14th.
"If you are a supporter, please get out there and let all the people know what we're trying to do and what this will mean for the kids in our district if we get this thing passed," he concluded.
Although opportunities were provided for those in attendance to ask questions about the sales tax, no one asked any questions.