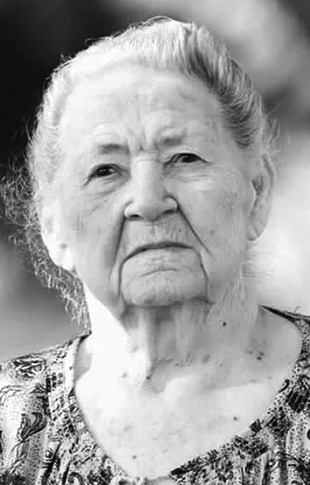 Obituaries
October 11, 2023
Alvie "Dean" Torrey
Alvie "Dean" Maudean Torrey, 92, passed away Tuesday, October 3, 2023, at her home.
She was born July 15, 1931.
Services were held at 10 a.m., Saturday, October 7, 2023, at Wallace Ridge Pentecostal Church, Jonesville, LA, with Rev. Tyler Stevison and Rev. Lance Torrey officiating.
Interment followed in the Heard Cemetery, Manifest, LA, under the direction of Magnolia Funeral Home, Alexandria, LA.
She was preceded in death by her husband, T.J. Torrey Sr.; son, T.J. Torrey, Jr.; grandsons, Clay Boothe and Jory Wallace; great granddaughter, Brooke Nobles; and sister, Beatrice Townsend Smith.
Those left to cherish her memory include her children, Kathy Collins (Grady) of Pollock, Donny Torrey (Brenda) of Jonesville and Krissy Boothe of Jonesville; grandchildren, Michelle & JayDee Wheaton of Ottumwa, IA, Kim & Donovan Wiley of Jonesville, LA, Lance & Christy Torrey of Gonzales, LA, Bradley Boothe of Harrisonburg, LA, Wendy & Charlie Jenkins of Jacksonville, TX, Holly Davis of Monroe, LA, Jason & Loni Torrey of Gilbert, LA, Nicholas Torrey of Boise, ID and Nina Torrey of Maryland; 18 great grandchildren, Jeffrey, Natalie and Ashton Morgan, Austin, Jim, Mallorie and Trent Wagstaff, Ryan, Connor, Matt, Jake, McKenna, Alex, Maylee, Cory Michael, Embry, Sydney and Raven; and four great-great grandchildren, Lilah, Layne, Mattie Faye and Larkin.
Pallbearers were JayDee Wheaton, Donovan Wiley, Lance Torrey, Austin Wheaton, Jason Torrey and Ashton Morgan.
Honorary pallbearers were Bradley, Jim, Ryan, Connor, Matt, Jake, Alex, Cory Michael, Trent and Charlie.