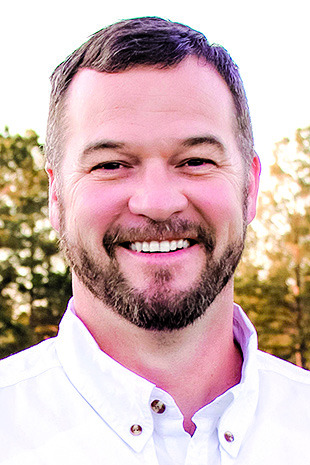 Chet Atkins Candidate Winn Parish Assessor
Chet Atkins, of Winnfield, is a candidate for the position of Winn Parish Assessor in the election this Saturday, October 14, 2023, in Winn Parish.
Atkins was born in Urania and graduated from LaSalle High School and later graduated from Northwestern State University with a B.A. in Biology with a minor in Wildlife Management.
He has worked in the timber and oilfield industries and during the 2015 oilfield layoff period, worked as a teacher at Winnfield Sr. High School for several months, an experience he credits to changing the course of his life.
Atkins issued the following statement to voters of Winn Parish: "It is with a humble spirit that I ask for your support in the October 14th election for the powith sition of Assessor for Winn Parish.
I am married to Miranda and together we have three sons, Keegan, 13, Baron, 10 and Carson, 9 and we love our parish and want to see it grow and prosper for not only our children, but all of Winn Parish.
When I was laid off in 2015, I accepted a teaching position and truly believe it was a God-ordained moment. I consider my time teaching as one of the greatest and most rewarding times of my life as it was during that time that I realized the passion that was in me to help others and to really make a difference the lives of people. It helped ignite this desire to enter public service to help make a difference for the great residents of Winn Parish.
When the oilfield picked back up, I went back to work in that industry but also would become a land agent, licensed by the Louisiana Real Estate Commission and working as a land sales agent. The land agent journey has taken me to courthouses across the state and I've discovered that the Winn Parish Assessor's Office is in great need of modernizing. The ownership maps are not online and not accessible from the internet, which is a great hinderance to the progress of our parish.
When elected as Assessor, on my first day in office, I will begin implementing the steps to bring the tax parcel data online, create a resourceful website for the office and I will do it all within the budget that is in place that year.
Revitalization is a word that keeps going around Winn Parish and our rural communities. Rural economic development has gained momentum and becoming a focus. Investors from out of state are looking for opportunities and they are searching from their computer desks in high rise buildings in large cities across our nation. Unfortunately, right now, Winn Parish is missing from their radar. We must bring about the advancements and current technologies in order for us to not just survive, but thrive. By getting our Assessor's office modernized, we can propel Winn Parish into the future that will allow opportunities for our children to stay here instead of leaving to find jobs in other places.
A modernized Assessor's office will positively affect every business and industry in Winn Parish, from logging and forestry, to oilfield, to utilities, to law enforcement, to every small business. But even if you could care less about the high-tech computer advancements, I will offer you this: A cup of coffee, a friendly conversation about your land, your assessment explained, appeals invited and resources offered. The effects of this can affect your neighbors, employer, grandkids and your parish.
I'm asking for your help by casting your vote for Chet Atkins as we work together for the future of Winn Parish.
If you have any questions or would like a personal visit, please call my cell phone at (318) 5548342.
I'm here Winn you need me."