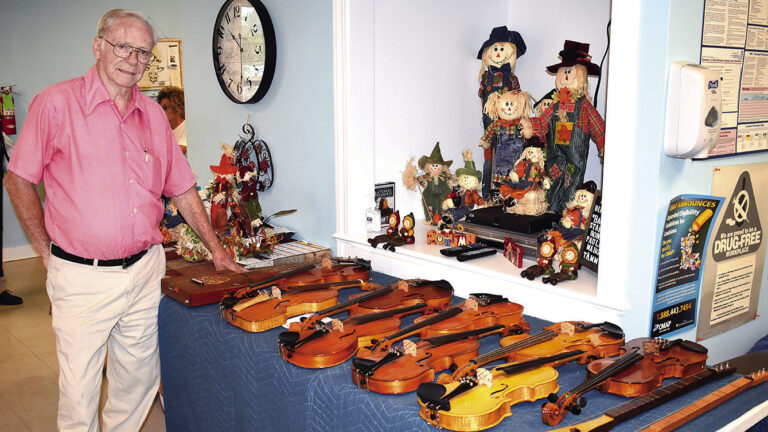 Local Craftsman Visits CoA
Last Thursday, members of LaSalle's Council on Aging (CoA) were visited by local wood craftsman R. V. Couch, whose visit is one of several events offered at the center each month.
Couch displayed beautiful, handcrafted and refurbished wooden, musical instruments, including violins, a cigar box guitar and an instrument he calls a "pik-a-stick."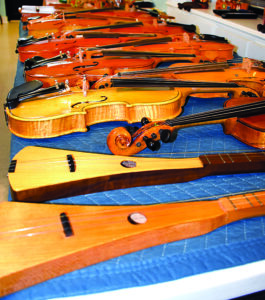 Members and visitors at the Council on Aging were able to view the instruments and learn more about Couch's building and rebuilding processes.
Couch built his first violin in 2005 and has been constructing travel guitars, violins, pik-asticks and tear drop violins ever since.
For instruments that are built from scratch, often using wood from trees that he has cut down himself, Couch will dedicate about two months for one project.
He is also known for his refurbishment skills and has been given several instruments either with missing pieces, damaged or already disassembled to refurbish. This process often require that he take the original instrument apart and create any missing pieces himself.
He spends anywhere from one to two weeks bringing these old instruments back to their former glory, with his oldest project a violin over 100 years old.
His visit to LaSalle's Council on Aging is one of many that he provides to local organizations, in addition to the various craft, folk and state festivals he participates in each year.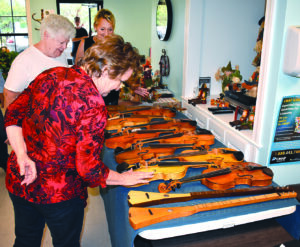 Following their perusal of the display of instruments, attendees at the center enjoyed a meal together and Thursday's regularly scheduled game of BINGO.
LaSalle's Council on Aging, whose overall mission is to enhance the quality of life for senior citizens of the area, offers free services, meals and much more.
Of the upcoming events, on October 26, a representative with Phoenix Family Life Center will provide information on breast cancer awareness and host that week's game of BINGO.
On November 21, Brown's Hearing will visit the center to check in on current clients and provide information to anyone interested in their services.
For more information on LaSalle's Council on Aging, contact Theresa Hines at (318) 992-4708.