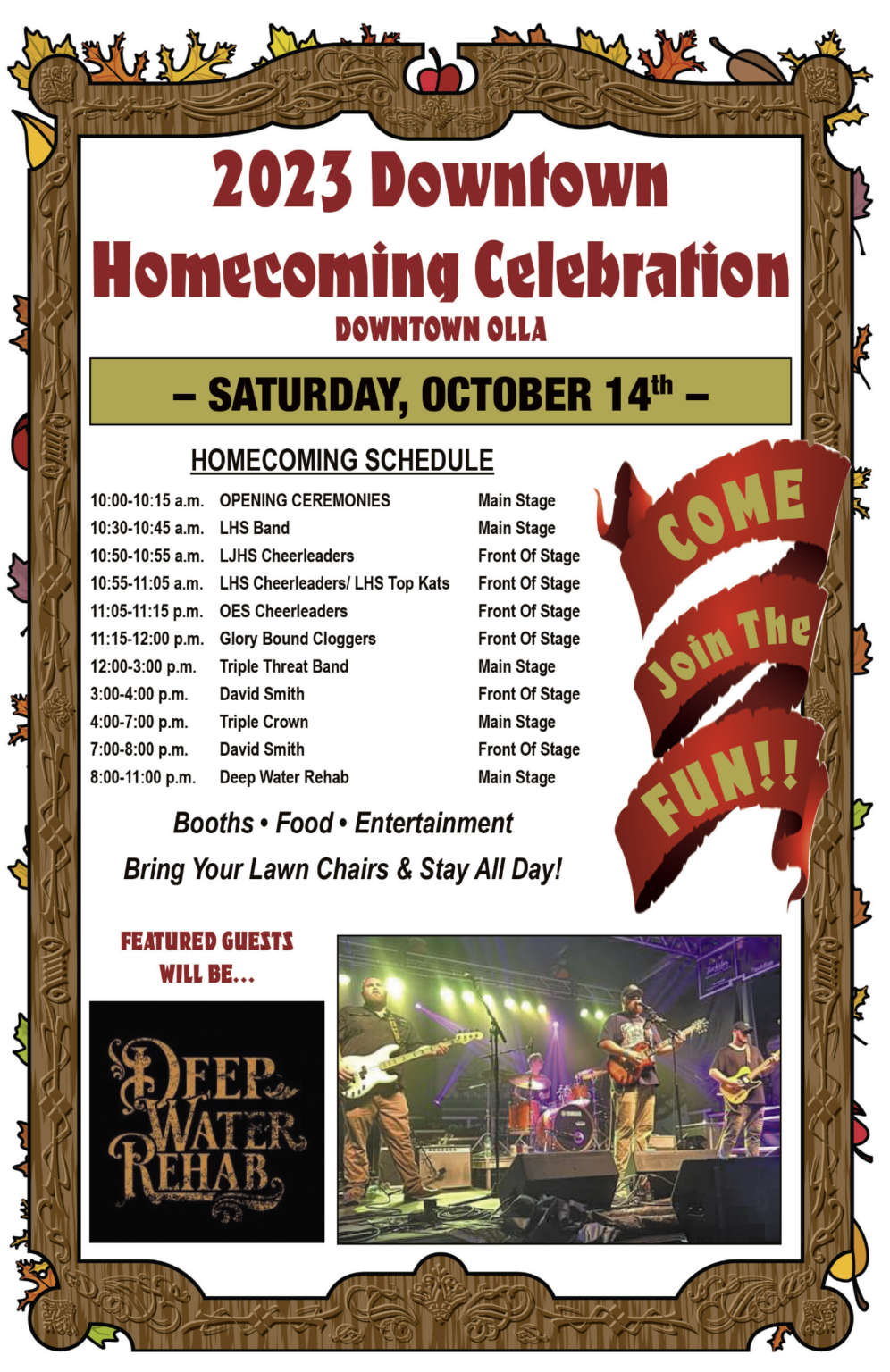 Olla Downtown Homecoming Sat.
A full day of fun and excitement awaits as the annual Olla Downtown Homecoming festival takes place Saturday, October 14, in downtown Olla.
The Olla Downtown Homecoming takes place each year in conjunction with LaSalle High School's homecoming that will take place Friday, October 13.
The entire block between Central Avenue and Louisiana Street will be blocked off, filled with vendors, food booths and game areas.
The Olla Town Square, located on the southside of the Dixie Center, will serve as the main area for entertainment for the day with various groups performing.
Olla Mayor Rhonda Elliott is excited about the day's activities and encourages all current and former residents to come visit and enjoy the day.
Opening Ceremonies will begin at 10 a.m. on the main stage in the Olla Town Square following by a performance by the LaSalle High School Band at 10:30 a.m.
At 10:50 a.m., the LaSalle Junior High School Cheerleaders will perform followed by the LaSalle High School Cheerleaders and Top Kats at 10:55 a.m.
The Olla-Standard Elementary School Cheerleaders will perform at 11:05 a.m. before the national award-winning Glory Bound Cloggers from Jonesville take the stage at 11:15 a.m.
At 12:00 p.m., the TripleThreat Band will begin their threehour concert on the main stage.
From 3-4 p.m., DJ David Smith will play crowd favorites as the next band, Triple Crown, set up and gets ready for their concert.
Triple Crown will begin at 4 p.m. and play until 7 p.m.
Another hour of DJ music will play from 7-8 p.m. as the featured band of the Olla Downtown Homecoming sets up and prepares for their show.
This year's featured band is Deep Water Rehab, a Louisiana- based Rock 'n' Roll band from Natchitoches that will play favorite rock-nroll hits both current and older songs.
The band is made up of Sam Wise, Eric Little, Thomas Little and Landon Walker.
They perform all over the south and are sure to provide a great show for the Olla Downtown Homecoming.
Deep Water Rehab will perform from 8 p.m. until 11 p.m., when the festival will come to an end.
"We are looking for a great crowd this year as we celebrate at the Olla Downtown Homecoming," Mayor Elliott said. "We hope that everyone will attend, especially alumni of LaSalle High who are in town for homecoming."