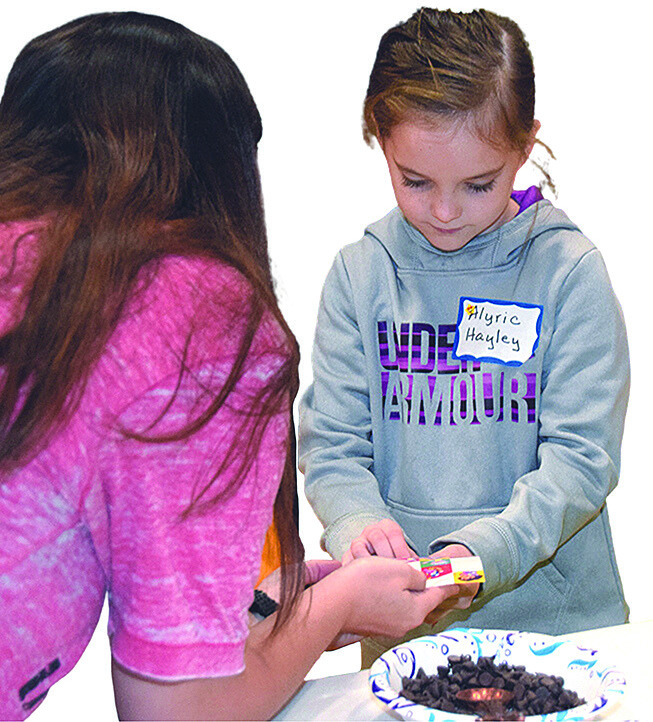 Many Attend Tales on the Trail
Tales on the Trail returned to LaSalle Parish this past weekend to the delight of many children.
Held at the Jena High School gymnasium, the event featured many activity stations where children participated in literary oriented projects to earn stickers which they would later use to redeem free books. Event organizer Dr. Debra Jo Hailey, a native of Jena who recently returned to her hometown, said the event was a great success after not having it for several years due to Covid and other circumstances.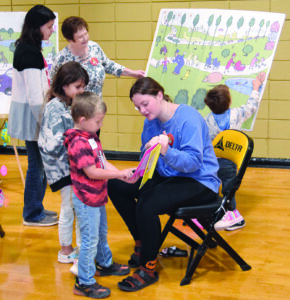 "I have a history with this as I started Reading on the River in Natchitoches several years ago and then I helped Laura Gifford Raborn get Tales on the Trail going here a few years ago," Hailey, an Assistant Professor of Child and Family Studies at Gallaspy College of Education and Human Development at Northwestern State University and President of the Louisiana Early Childhood Association said. "All I did was help Laura and Sara Gifford get this back up and going again."
LaSalle Parish's Delta Kappa Gamma served as the lead agency for the event with much help from various organizations and individuals, including the Louisiana Department of Health, Jena High School, Louisiana Early Childhood Association and Northwestern State University (NSU).
"We couldn't have done this without the help of so many people," Hailey said. "I also want to give special recognition to the students of JHS who got up early on a Saturday to help us. They really worked hard and we were so excited to have them."
Once children arrived and registered, they were able to visit various activity stations located throughout the gym where they participated in literary activities. Once they completed an activity at a station, they were rewarded with a sticker which would be used at the Tales on the Trail Book Zone to receive free books.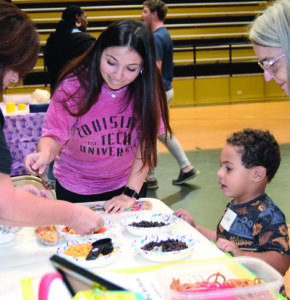 The event focused on children ages 0-8, although older siblings who attended with their family enjoyed participating as well.
Hailey noted the activity stations all centered around books but allowed the children to have a "hands-on" experience to learn valuable truths about the books.
"For instance, we had Donna Estis with the LaSalle Parish Library who had the Three Little Pigs Construction Company," she said. "The children were read the story of the Three Little Pigs, along with a Cajun version, and then they used construction blocks to build their own pig house."
Other stations included: Angela Smith helping children build Smash Books; the LaSalle Parish Honor Guard reading and demonstrating about the thirteen folds of the American Flag; Donna Lindsey with the Centennial Cultural Center focusing on character and character development; Nelda Tarver and the Nolley Memorial youth doing Wacky Wednesday which included a visual discrimination picture where they looked at pictures and tried to figure out what was wrong with them or why it did or didn't relate to the story; Martha Wood with the book, Goodnight Moon; LDD operating the Tales on the Trail Mix talking about making healthy choices when you eat that helps your brain; Hailey operating the Three Billy Goats Gruff station, understanding the concept of small, medium and large with construction STEM activities which included using blocks to build a bridge for an animal; the LaSalle Parish Ambulance and Jena Fire Department with their service units; and several "selfie" stations where children and parents could take photographs.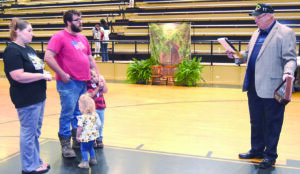 At the center of all the activities was the Book Zone, where the students redeemed their free books through the stickers they collected at each station.
"These free books were largely donated or purchased by three groups," Hailey said. "First, NSU gave us a grant which was used for signage, volunteer pins, printing and the purchase of baby books; second, Laura and Logan Raborn spent a lot of their own money in buying brand new baby books; and third, the LDD held a book drive and from that they brought in some 500 books. Together, these three groups allowed our Book Zone to have over 2,000 children's books!"
Hailey explained that baby books must be brand new books due to sanitation issues (used baby books are not given away as small children have a tendency to place the books in their mouths.).
The next Tales on the Tail will be held in Winnfield in February but Hailey said the annual event will return to LaSalle next year.
"We hope to have it every year to coincide with the start of the school year," she said. "Moving it from the walking trail to the gym allows us to have a set time each year as we'll be able to have a climate-controlled environment."