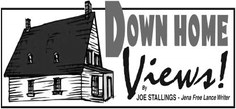 Columns/Opinions
October 25, 2023
What is Inflation?
Inflation is simply an increase in the amount of money and credit in relation to the amount of goods available. Inflation causes excessive increases in the price of all goods. This causes a decline in consumers' purchasing power. When trillions of dollars are borrowed and not repaid, you get inflation. A dollar's worth of goods for a dollar spent. Five hundred dollars of work pays you five hundred dollars. A one-thousand-dollar loan must be repaid plus the agreed upon interest. You have five trillion to spend yet you spend seven trillion. Deviations from these simple basic principles are the reasons for inflation. Financial hocus pocus causes inflation because standard money rules are always set aside. Almost all inflation is caused by government spending with money that is many times not there. The money is then borrowed or printed. When money is printed the cost-effect ratio is seriously compromised. For quite a while our government has quietly been printing money like it was paper. Oops, oh yeah, that's right. It IS just paper. It is not like you couldn't see this one coming. Government regulation especially in the energy sector has also been a major inflation factor.
The price of everything is rising dramatically and this doesn't jive with the amount of money you are making. Union strikes are the result and the unions always get what they are demanding. When trillions of dollars are borrowed but not repaid you get inflation. This has been going on for years. Money should never be free!
Anything that deviates from a day's work for a day's wages complicates the inflation dynamics. Low-income workers, usually young people, are the first to be affected. Middle class workers are not far behind. With the price of everything continuing to rise, everyone is affected by this bloated economy. We live in a consumer based economic system. When customers cannot afford to purchase what they need or want because of increasing prices the economy will always suffer.
Inflation will affect all consumers, except the super-rich, but low and middle class people are affected the most. Rising prices and wide-ranging strikes got really bad when Joe Biden became President. If you are a consumer (and who isn't) you are feeling the inflated prices that Joe Biden and the Democrats have put in place. Hey Joe…stop printing, borrowing and giving away money so inflation will be brought under control. Redistribution, taking money from Peter to pay Paul, also contributes to the problem.
Rising interest rates will have a negative effect on our economy and will put some businesses out of business. High interest rates will also bankrupt this country. We are already paying 706 billion dollars for interest yearly!!! The only positive effect of rising interest rates means low risk investors will finally earn some interest. The only way to get back to fiscal reality is to have "an eye for an eye and a tooth for a tooth" and yes, a dollar paid for a dollar earned philosophy.