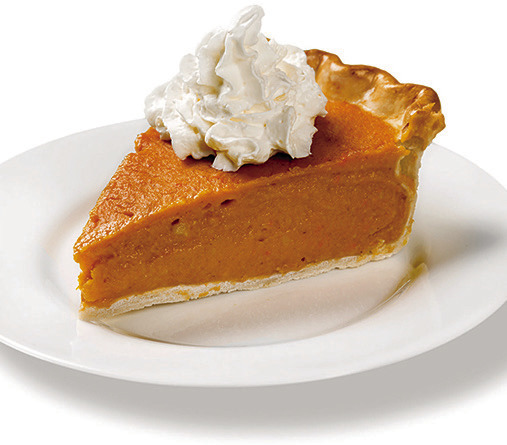 Pumpkin Pie with Chantilly Cream
Ingredients:
3 large eggs
1⁄2 cup firmly packed light brown sugar
1⁄2 cup dark corn syrup
1 1⁄2 cups heavy whipping cream
1 1⁄2 cups pumpkin purée
1 tablespoon rum
1 teaspoon ground cinnamon
3⁄4 teaspoon ground ginger
1⁄2 teaspoon salt
1 prebaked 91⁄2-inch pie crust
1 recipe of chantilly cream (see below)
Directions:
Preheat the oven to 350 F.
In a large bowl, whisk together the eggs and brown sugar until blended. Add the corn syrup and whisk until smooth. Whisk in the cream, pumpkin purée, rum, cinnamon, ginger, and salt until well mixed. Pour into the prebaked pie crust.
Bake until the filling is set, about 30 minutes. Let cool to room temperature. Serve with the chantilly cream.
Chef's Tip: The pie may be made a day in advance, covered and refrigerated. Bring to room temperature before serving.
Chantilly Cream
Makes about 2 1⁄4 cups Ingredients:
1 cup heavy whipping cream
1⁄2 teaspoon vanilla extract
1 tablespoon granulated sugar
Directions:
Put the cream, vanilla and sugar in a bowl and whip by hand with a whisk or with an electric mixer on medium speed until soft peaks begin to form. The cream should hold its shape but still be very smooth.
Cover and refrigerate until serving. Chef's tip: You can whip the cream an hour or two in advance, cover and refrigerate it. If it sits longer than that, it will start to thin out and you will need to rewhip it lightly before using. A few quick stirs with a whisk will do the trick.