Columns/Opinions, Lifestyle
November 8, 2023
Butternut Stir-Fry with Peppers and Peas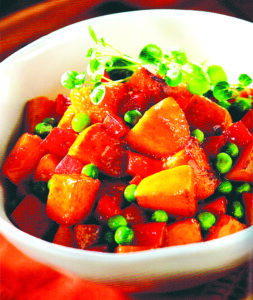 Ingredients:
2 tablespoons vegetable oil
1 tablespoon chopped fresh ginger root
2 cups cubed peeled butternut squash (1⁄2inch cubes)
1⁄3 cup diced red bell pepper
1⁄3 cup frozen tiny peas
2 tablespoons water
3 tablespoons barbecue sauce
1 teaspoon salt
Directions:
1. Heat a wok or large deep skillet over high heat. Add oil and swirl to coat pan. Add ginger and toss well, until fragrant, about 15 seconds.
2. Add squash and spread into a single layer. Cook, undisturbed, for 1 minute. Toss well. Cook, tossing often, until squash is browning lightly around edges, 2 minutes more.
3. Push squash aside and add red pepper and peas. Scoop squash on top of vegetables. Add water, pouring in around sides of pan.
4. When everything is sizzling away, add barbecue sauce and salt. Cook, tossing once or twice, until vegetables are tender and evenly coated with sauce, 1 to 2 minutes more. Transfer to a serving plate. Serve hot or warm.