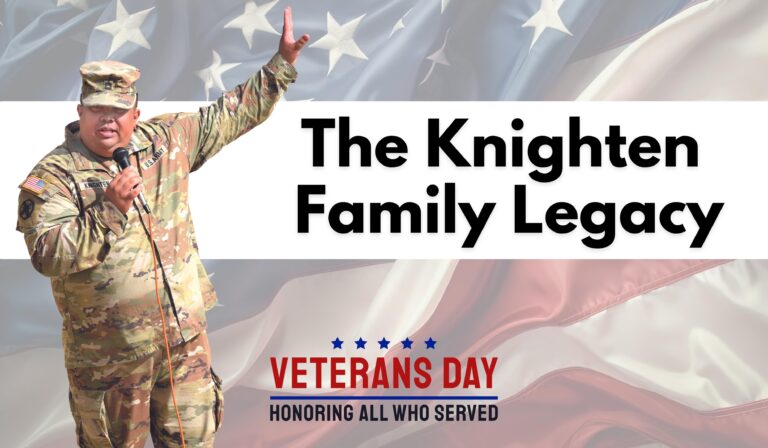 The Knighten Family Legacy
The Knighten name is known in the LaSalle Parish community for a family dedicated to military service. Twenty years ago, on August 9, 2003, while on mission, one member of that family gave the ultimate sacrifice.
While the community and the service lost one of its brave members that day, little did they know, another was considering forsaking the family tradition.
SFC Floyd George Knighten III originally joined the military during his senior year of high school to assist in paying for college tuition. Raised in Olla and a graduate of Jena High School in 2000, he enlisted in the Louisiana Army National Guard on September 8, 1999.
However, SFC Knighten III is not the first Knighten to wear the Army National Guard uniform. His father, SGT Floyd George Knighten Jr. joined the Guard in 1974 and served until 2003. On May 6, 1948, Floyd George Knighten Jr. was born to Bertha Wright and Floyd George Knighten Sr. in Trout, LA. Knighten Jr. graduated from Sicily Island High School in 1969. Following his graduation, Knighten enlisted in the United States Navy and served for four years, from 1969 to 1973 as a Patrol Boat Operator, serving in Vietnam.
In 1972, while stationed in the Philippines, he met and married Lisa Soledad. Knighten joined the Mississippi National Guard in 1974 and transferred to Louisiana in 1976. Floyd and Lisa would settle in Olla, LA and on August 22, 1982 would welcome a son, Floyd George Knighten III. Throughout his childhood, from 1983-2003, Knighten's father would work as a Federal Technician and mechanic with the National Guard. During this time, he served in the Gulf War and in Saudi Arabia during Operation Desert Storm/Desert Shield in 1990.
As a child, Floyd knew his father was in the military, but his father didn't talk to Floyd about his missions or work, hoping to shield him at a young age.
"He didn't talk about his service much when I was a kid," Knighten recalled. "But, as I got older he started to share more."
Though he didn't know much about what his father did, Knighten decided at a young age that he wanted to be like his dad.
"I remember, back when my dad was being deployed for the Gulf War, I was about seven or eight years old," he said. "I told him, 'Next time you go, I'm coming with you!'" Knighten had no way of knowing, but what he said would one day come true.
He started his career with the 1086th Transportation Company, which would eventually change to the 1087th Transportation Company as an 88M, or Heavy Vehicle Operator, the same company as his father.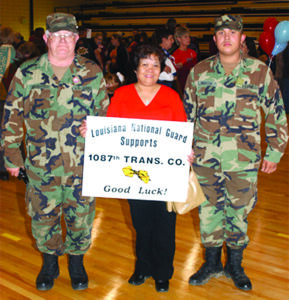 In the spring of 2003, SGT Floyd George Knighten Jr. and son SFC Floyd George Knighten III were deployed with the Louisiana Army National Guard's 1087th Transportation Company, to the Middle East, serving together in Operation Iraqi Freedom.
While deployed, SGT Knighten Jr. repaired trucks and SFC Knighten III drove them.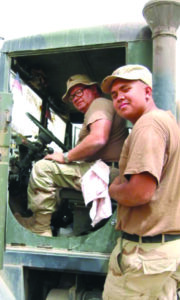 "I was returning from a three-day mission and my dad met us coming in," Knighten remembers. "He said he would be leaving soon to help a convoy with maintenance."
On August 9, 2003, while traveling with a convoy from Camp Bilad to Camp Pennsylvania, SGT Floyd Knighten Jr. died from heat related causes, most likely a heat stroke, as temperatures in Iraq could get as high as 120 degrees.
"I was in my tent and Jamie Robertson from Jena told me to follow him," Knighten said. "He led me to the First Sergeant's office where they told me that dad had passed. My first thought in that moment was 'I need to go home. I need to be with my mom.'" Upon his return to the states, Knighten stayed busy planning a funeral service for his dad.
He laid his father to rest on Tuesday, August 19, 2003. SGT Knighten Jr. was buried with full military honors, including a 21-gun salute and the playing of taps. Hundreds were in attendance to pay their respects, and active and retired military served as pallbearers.
"At the visitation, Major General Landreneau let me know that I didn't have to go back," Knighten said. "I could stay home and take care of things here."
In the days and weeks following his father's funeral service, Knighten stayed busy.
"It was the only way I knew how to cope," he said. "Stay busy and take care of my mom. But eventually, as time went on, I got less busy, and depression started to set it."
As reality settled, Knighten found himself questioning his future with the Guard.
"I just didn't know if I could go back," Knighten explained. "I started to miss drills and stay home more, and I had a chance in '03 to leave on honorable discharge."
Knighten said if not for his friends, family and leaders in the Guard, he wouldn't be where he is today.
"I had family members and friends who would reach out, invite me out of the house," Knighten recalled. "There were several Guard leaders who took care of me. They would regularly check on me and encouraged me to stay with the Guard."
Knighten chose to stay with the National Guard is still a member today, over 20 years later. He currently serves as a Platoon Sergeant for the 1086th Transportation Company in Bunkie, LA and has worked full-time with the Counter Drug Program since January 2004. He was recently assigned to the Louisiana State Police Criminal Investigations Division and DEA Task Force in Monroe, LA, where he currently lives.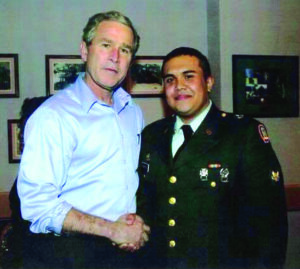 "I may have joined in high school to pay for college, but I've been in this for over 24 years now," Knighten said. "I plan to serve for two more years and retire in October of 2025 and come back home to LaSalle Parish."
Though more than two decades of military of service has not always been easy, Knighten is proud of what he has been able to accomplish.
"I have really enjoyed the camaraderie with other soldiers, and now, being in a position of leadership, being able to mentor other young soldiers," Knighten stated.
SFC Floyd George Knighten III carries his father's name and his legacy. The pain of losing his father has not left him, but neither has his dedication to serve this country.
"Twenty years later, his passing still affects me. One day it will hurt more than others, but I choose to stay surrounded by people I know and trust and who will support me through that pain," Knighten said. "Being a veteran means you've done your job for your country. You've chosen to serve, protect and fight for our freedoms. I don't regret making that choice."