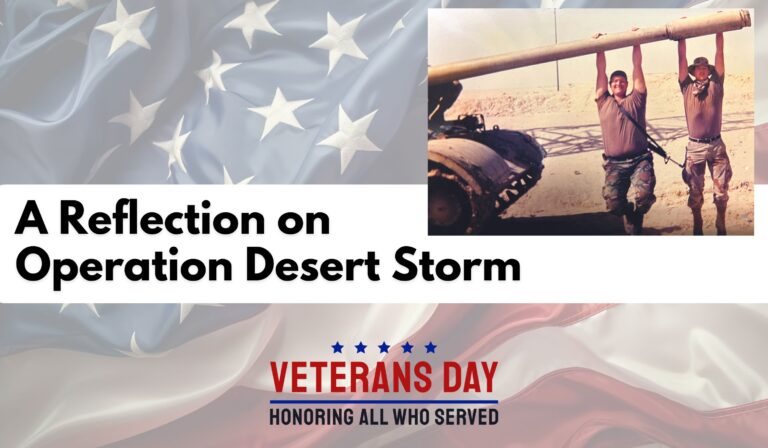 A Reflection on Operation Desert Storm
Special Veterans Day Feature
"Let me tell you a story," began veteran Orrin Glen Joiner, known to locals, family and friends as "Slick".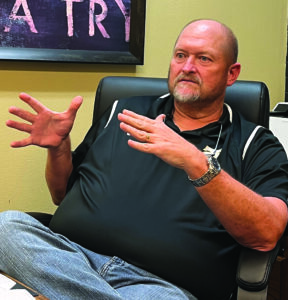 "When I was stationed in Saudi Arabia during the Gulf War (Operation Desert Shield/Desert Storm), I was told I had to go pick up a group of troops around midnight. I went to the airport where I was sent and was sitting in my truck waiting. An officer walked up and asked who I was and what was my mission."
"I told him I was there to pick up troops, and he and a group of 20 or more men got into the back of the truck I was driving. The Lieutenant got into the passenger's seat, looked at me and said, 'You just drive, I'll tell you where to go."
Drive he did, many miles down unfamiliar roads until the officer, observing his compass, told him to take a left to which he replied, "Sir, there is no road."
"Take a left," the Lieutenant repeated without explanation.
"But there is no road, sir," Joiner said with the officer again repeating his command.
Joiner followed his superior's orders and took a left driving into the middle of the desert for twenty- five minutes or more until directed to stop and let the troops out into the vast nothingness of the Saudi sand. Not knowing where he was and being the solitary person left in the vehicle, he was a little unsure of how to return to the starting point. Not to worry, the officer curtly instructed him to follow his tracks back to his company headquarters. In the black dark. In the middle of unknown terrain.
"I never knew who they were, what happened to them, or where they were going," he reflected. "I can only imagine what those men saw during their time in Saudi." Fortunately, he did make it back and lived to tell the tale.
That's just one of the memories and stories Joiner brought back to the USA from his tenure during Operation Desert Storm, initially Desert Shield. The year was 1990 and Joiner, his younger brother Jimmy, and a host of other locals from the 1086 Transportation Unit of the National Guard answered the call to duty in the USA's defense of ally Kuwait.
"I had personally convinced my younger brother, Jimmy, who had graduated high school and turned eighteen into joining (the unit). He just completed basic training and had been home two weeks when we were deployed. My mama wasn't very happy with me," he smiled and said then shared the unofficial motto of the Guard – you serve one weekend a month and two weeks a year. That didn't hold true for the newly recruited Jimmy.
"Mama said, Really, Slick? Thank you!" he recounted laughing. Joiner was twenty-four at the time and being the older brother, he would feel great responsibility in making sure Jimmy returned safely to his parents.
He vividly remembers the farewell that family and friends of LaSalle Parish gave him and his fellow guardsmen as they left headed to the Port of Beaumont. The streets of Jena were lined with 'thousands of people', moms, dads, spouses, children – many who were openly weeping as the unit set off to answer the call to serve.
"It was a very humbling experience," Joiner shared. There was a lot of uncertainty and fear for families, our parents were there too in that crowd."
The unit later left the USA and upon arriving at Saudi at 3:00 am, unloaded from the plane finding it difficult to breath in the extreme desert heat. They had to adjust quicky to temperatures that reached as high as 127 degrees and dust storms that would appear out of nowhere. Their trucks followed the troops a week later and with their arrival, instructions were given for their mission. They were one of three military units that constituted part of a vast military compound that was soon to become a city as more troops would arrive to join them. Mr. Harvey Ray Hudnall was the Logistics Commander of the 1086th.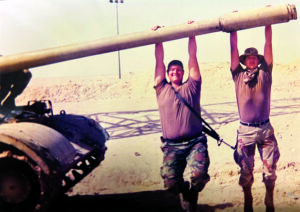 "Once we got into the country, we predominantly became a water hauling unit. We had a 44-foot trailer that had – what looked like – a big burrito on the back that hauled 5,500 gallons of water. We filled up the burrito and hauled water to different locations in the desert where infantry troops would come and pick it up," he remembered.
Joiner and his fellow guardsmen had earlier been trained on how to respond to possible terrorist bombings and attacks as they traversed the roads and highways delivering their cargo. They were told to never stop but to plough through unfamiliar vehicles that might pull in front of them and were given other defensive strategies for possible situations that might arise.
He also recalled the large numbers of white pickup trucks (he declares all were some version of a white Toyota truck) that the locals drove, often with a camel riding in the back, and that Christmas Day when he and fellow guardsman Jeffery 'Pee Wee' Paul were headed to the chow line and heard the strange 'quack, quack,' of two ducks flying over them. The waterfowl were definitely unexpected and out of place in the hot desert sky.
"Pee Wee commented it was a good thing we weren't in Jena or Nebo because those ducks would have already been dead!", Joiner said laughing and referring to the hometown hunting habits and duck season taking place at the time in Louisiana.
Joiner celebrated his 25th birthday before he and his unit left Saudi and returned home July 1, 1991.
"I was with 40-50 people that I either grew up with or had an acquaintance with…I felt like I was with family," he shared. "Greg Floyd, Russell Poole, Kevin Wilson, Johnny Joubert…people I ran around with. We had hardships but having so many friends made it better with having to be gone overseas."
Arriving home in 1991, the same sights and bigger crowds greeted the troops than had bid them farewell when they'd left those many months before. People were waving and cheering the unit home with smiles and voices of gratitude. Joiner described it as a 'humbling experience'.
There were also Vietnam vets within the unit who shared the homecoming, as Joiner explained, "In our company we had a number of Vietnam vets that had gone to Saudi Arabia with us, when we were met with the homecoming celebration, they said it was the parade they'd always thought they would have gotten but didn't when they arrived home from the Vietnam War. I told them, 'You earned this one'.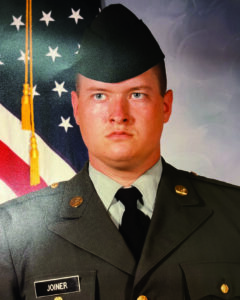 Reflecting on his service time, Joiner shared that when he was called to duty as a young man, he viewed it as the 'worst thing that could have happened'.
"It interrupted my schooling and my marriage. Now, I wouldn't give it up because it changed my life. You learn from experiences, and I learned lessons from over there. Things that the everyday person takes for granted, I realize that somebody had to fight for so that our freedom remains."
Today, Slick Joiner, his wife, Nori, and their son Braxton are enjoy-ing those freedoms. After he returned home, he finished his college education and has enjoyed a lifelong career as an educator, principal and supervisor in the LaSalle Parish School System. His mama did eventually forgive him for convincing Jimmy to join the National Guard – even with the quick deployment that followed, and he has no regrets that he faithfully served his country, answering the call that all veterans have answered.