Tigers' 2023 Season Ends With Loss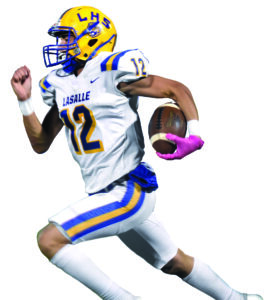 The LaSalle Tiger football season came to a close last Friday night north of Bastrop with a 35-18 loss to Beekman Charter.
The Tiger's left it all out on the field last week as this senior class has been through injuries galore during four years of football. This group will be the first to tell you that injuries are not an excuse, as they have played hurt and beat up all season.
The game featured some outstanding plays by the Tigers who kept the game close after the first quarter with the score 14-12. Tanner Gagne put the Tigers on the board first with a three-yard touchdown run followed by Kendryk Morrow with a 12-yard touchdown run.
Beekman answered with two touchdowns also and with their extra-point kicks good after LaSalle's first PAT failed and then a failed two-point conversion attempt, led 14 12. Beekman would go on to score two more times in the second quarter taking a 28-12 lead into halftime.
During the third quarter, Beekman would score again and La Salle would cut the lead with another touchdown of their own by a 34-yard run by Tanner Gagne. With no team scoring in the fourth quarter, this made the final score 35-18.
Gagne led the Tigers in rushing with 16 carries for 130 yards and two TD's, followed by Morrow with 9 carries for 110 yards and one TD. Justin Valentine had one carry for 4 yards.
In passing, Morrow was 14 for 25 with 143 yards. Noah Parham led all Tiger receivers with 4 catches for 69 yards, followed by Tuff Street with 7 catches for 49 yards, Gagne with 1 c a tch for 15 yards and Wyatt King with 1 catch for 12 yards.
LaSalle rushed for 244 yards and had 143 receiving yards for a total of 387 total yards in the loss.
The Tigers will take this season and learn from it and look to improve their 4-6 overall record and 1-3 district record as they look toward the 2023 season.
There are 17 graduating seniors, but the younger guys have had the opportunity to gain some valuable experience. I know first-hand experience that this band of brothers are not done as they will navigate the rest of this senior year with basketball and baseball.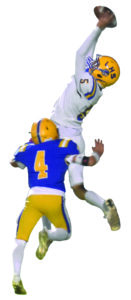 The Tiger seniors included: Chase King, Noah Parham, Sean Derr, Hunter Bradford, Dannon Williams, Kendrick Morrow, Hayden White, Lucas Foy, Tanner Gagne, Brody Barton, Justin Valentine, Eli Peppers, Jamorian Turner, Donald Eiland, Logan DeMoss, Mason Dulaney and Haden Doughty.
LaSalle will be like the rest of the teams that ended the season, as they will take a couple of days to pack away gear and get things ready for the off-season. The Tigers will pack the weight room this off-season becoming bigger, faster, and stronger for next season. Look for this Tiger team to compete for a district championship next year. This will be the last story on football until next season. These guys worked so hard to make our school and community proud.
To the departing seniors, you can now take your place in history as "Once a Tiger, Always a Tiger."