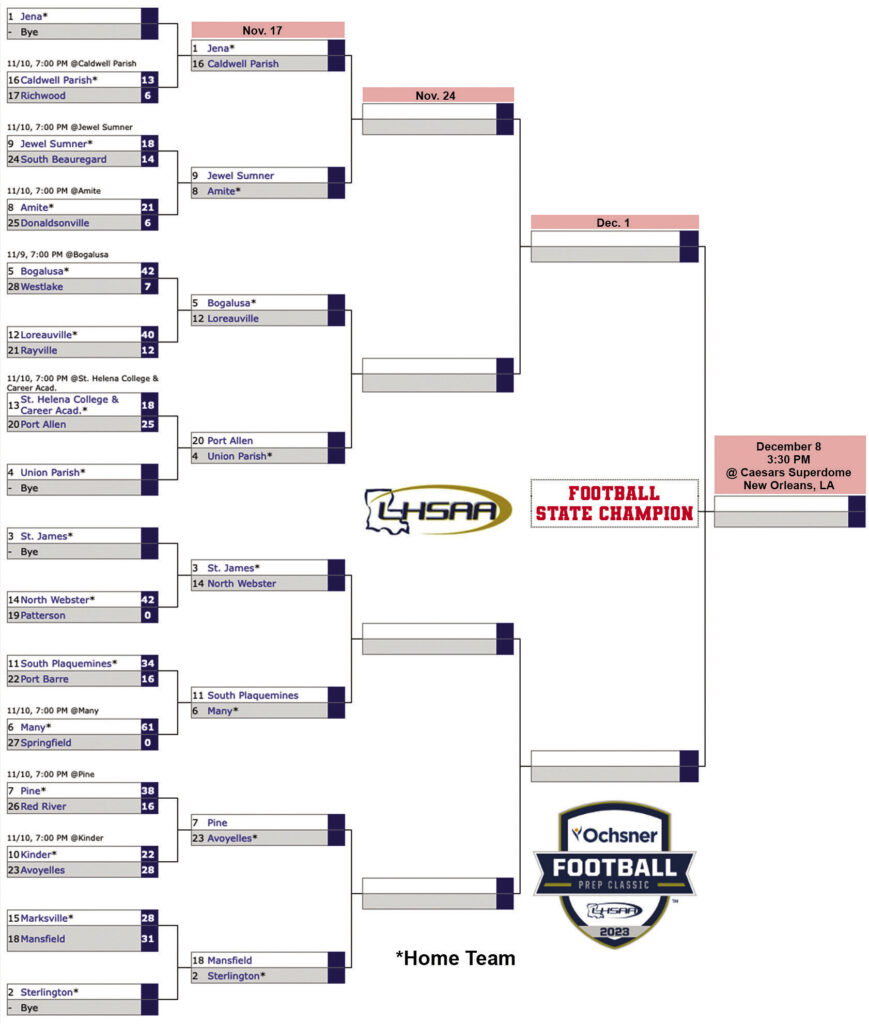 Giants Hosting Caldwell Friday
The Jena Giants had an off week this past week as they earned a bye in the first round of the state playoffs by earning the #1 seed. The Giants still practiced this week and prepared as if it was a regular week. Friday night they found out who their opponent would be for the 2nd round of the playoffs and learned it would be a very familiar opponent.
Last Friday night, the #16 Caldwell Spartans scored 13 unanswered points to come back and defeat the #17 Richwood Rams. This would mean that the Spartans would move on to the second round of the playoffs and will travel to Jena this Friday night take on the #1 Jena Giants. These two teams have met 47 times since 1966 with the Giants winning 24 times and Caldwell winning 23 times.
The Giants have won the last four matchups including this year in Week 9 when the Giants defeated the Spartans 60-7. It would be the most points scored by one team in the series and the largest margin of victory in the series.
Zerrick Jones had 200 rushing yards and 4 rushing touchdowns in the game. Caldwell senior quarterback Jon Paul Shaw threw for 66 passing yards and a passing touchdown in the game. The Jena defense forced three turnovers in the game with 2 interceptions and a fumble. Jena senior defensive back Demariyon Hammock had a 60-yard interception return for touchdown. The winner of the second-round game will play the winner of #9 Jewel Sumner and #8 Amite.
If the Giants win then they will be at home in the quarterfinal round. If the Spartans win then they will have to travel in the quarterfinal round because of being the lower seed.
There will be a lot at stake this Friday night as the Giants will try to make the quarterfinal round of the playoffs for the 3rd time in school history with the first two times coming in the 2000 and 2020 seasons. Caldwell will be trying to make the quarterfinal round for the first time in school history.
A rivalry game in the playoffs? You couldn't ask for anything better. It should be a packed house this Friday night at Guy Campbell Memorial Stadium so make sure you get there early to get a good seat. Kickoff will be at 7:00 pm.
If you can't make it to the game then tune in on FM102.7 starting at 6:00 p.m. with the pregame show. If you are not in the listening area then you can download the MIXLR app and search for KJNAFM or go online at www.kjnafmjena.mixlr. com.