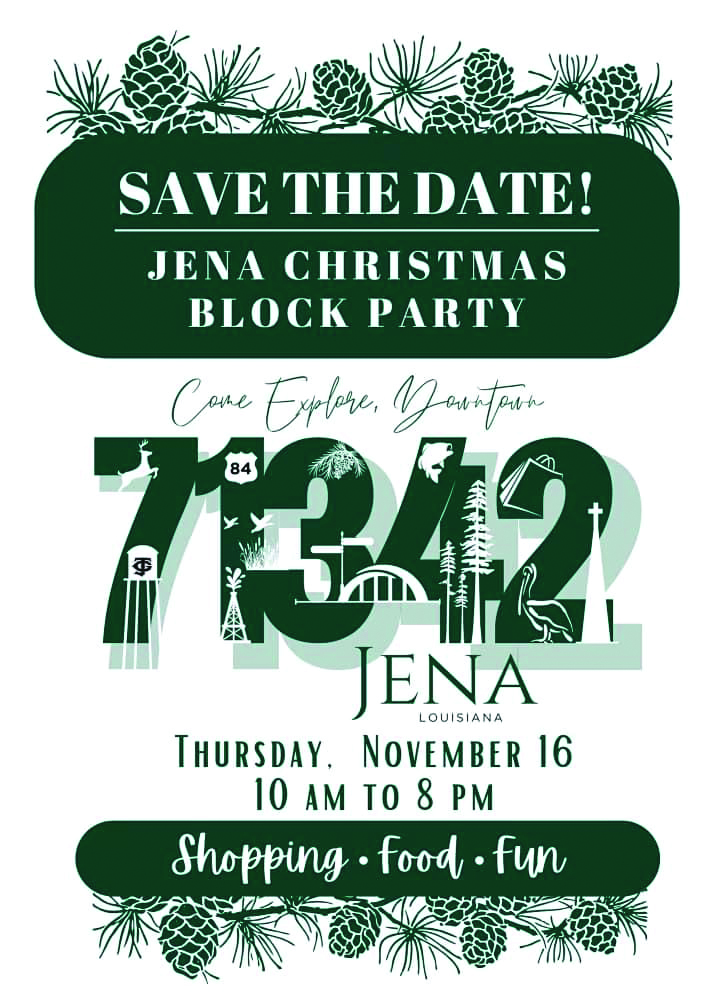 Jena Christmas Block Party Nov. 16
Merchants in the Town of Jena are making preparations for their annual Jena Christmas Block Party, set to take place Thursday, November 16, from 10 a.m. until 8 p.m.
The special hours will include shopping late into the evening as stores and businesses offer special deals and promotions to kick off the Christmas shopping season.
For the past 25 years, downtown merchants in Jena have held a "block party" on the Thursday night before Thanksgiving, giving shoppers the opportunity to visit and shop locally prior to the huge Black Friday shopping sprees.
With the theme, "Come Explore Your Town," merchants will be hosting various events, like free give-aways including food and other specials throughout the day.
Although when originally formed years ago by the former Jena Merchants Association the downtown block party was limited to the downtown area of Jena, the event has expanded and now includes businesses located throughout the area, not just downtown.
Jena Mayor LaDawn Edwards said the event is always a town favorite as it brings the community together with lots of visiting and shopping.
Some have described their experience during the evening hours as resembling a scene from a Hallmark movie.
Whether attending to visit with friends or experience the great savings that local businesses are offering, it is sure to be one day that residents will not want to miss.
See pages 4 and 5 of Section C for more information and deals that local businesses are offering.