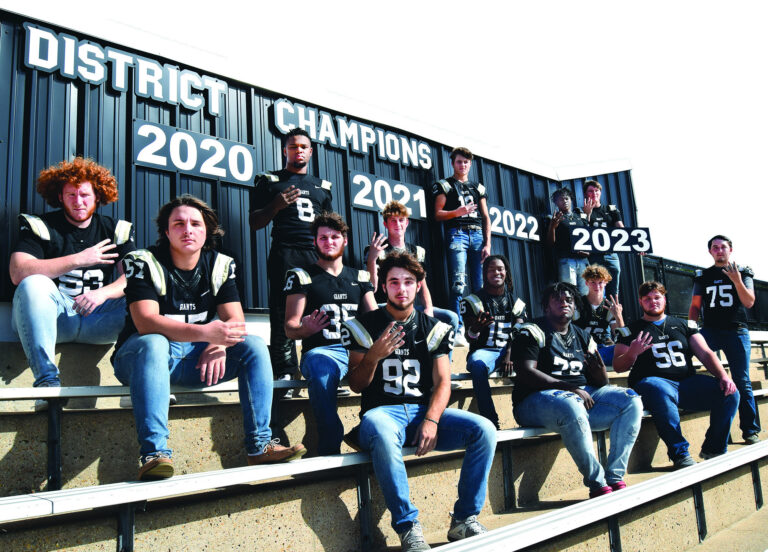 Jena's Historic Senior Class
The Jena Giants enter the 2023 LHSAA State Playoffs as the Number 1 Seed in Division III Non-Select – a feat that has never occurred in the history of the school.
But that is not the only feat this team has achieved as school records and historic numbers continue to pile up for this outstanding team.
The top four teams in Division III Non-Select received byes for the first round of the playoffs last Friday night, which means the Giants will begin the playoffs this Friday night, November 17, at home during the second round.
A win Friday night will see the Giants play at home the following Friday night in the quarterfinal round – the first home quarterfinal game in school history.
The senior class on Jena's team has accomplished something no other senior class has ever done during four years at Jena – winning four straight district championships.
"I'm just so proud of these guys for this and so much more," said Head Coach Jay Roark. "Granted, not many of them saw action as freshmen, but they were still part of the district championship team of 2020."
Not only has this senior class won four straight district championships, but they have actually never lost a district game in four years… that's 18 straight district wins.
As a group, this senior class has 34 wins during their high school career, third on the all-time charts behind the 2019 (39 wins) and 2018 (36 wins) senior classes, respectively.
"Had they not had the Covid year of 2020, they probably would have been number one on the all-time win list at Jena," Assistant Coach Russell Dorton noted. Dorton has spent many hours researching past Jena teams to compile data since the school started playing football.
The senior class has also won four playoff games in their career but they are hoping to add four more by the time this season concludes. If they do, they will bring the first ever State Championship trophy back to Jena High School.
Individual Records
Jena's star running back, Zerrick Jones, broke the JHS career season rushing record during the final game of the regular season against Buckeye where he ran the ball for 200 yards. He finished the game with a career total yard of 4,305, sprinting past Trelon Jones who had held the record for Jena with 4,246 yards.
Zerrick Jones is also only 113 yards shy of breaking the single season rushing record currently held by Eric Bowens, who rushed for 1,936 in 2008. Jones sits at 1,823 for the season but is on track to break that record during the playoffs.
Jones also broke the single season touchdown total this year, amassing 29 touchdowns in 10 games. The previous record was held by former JHS receiver and LSU Tiger Jaray Jenkins. Again, with the season still going, he could add to that total in the coming weeks.
The Jena Giant offense as a group is also having a standout year. They have recorded 3,773 total yards thus far and averages 43 points per game.
Quarterback Zach Barker has passed for ten touchdowns, 855 yards, has a completion percentage of 50%, has only thrown two interceptions and is on course to pass for 1,000 yards.
Zy Hunter is Jena's top receiver with six touchdowns and 551 yards. Brayden Oakes has four touchdowns with 258 yards.
The Giant defense is also holding its own this season, allowing an average of just 17.1 points per game for opponents.
Linebackers and cousins Triston McLendon and Jacob Belcher, known to the Giant nation as "Mac-n-Cheese," lead the defense in tackles. Mc-Lendon has 28 solo tackles and 42 assists while Belcher has 32 solo tackles and 33 assists. Dylon Davis is close behind with 29 solo tackles and 36 assists, but really, many more Giants contribute to the outstanding defensive effort.
While many players are having standout performances, Roark notes that all of the records being achieved by this group of players is a total team effort.
"Those guys scoring the touchdowns will be the first to tell you that without the line, without the other players, they would not be able to do what they're doing," he said. "This really is an unselfish team."
The Playoffs
Coach Roark noted that not only has this senior class been able to achieve more than any other senior class, they also have the opportunity to go where no other Jena team has ever been.
"Every coach will tell you to that we don't like looking ahead," he said. "We must stay focused and take one game at a time or there won't be another game."
"We have preached all season long and the message is still the same, 'one repetition at a time, one game at a time.' The dome is the end goal but we have to win every day first. But I will say that this team has set their goals high from the moment they started workouts back in the summer."
Before the first game was ever played, the mantra of "Why Not Us?" began to reverberate among the players. They actually believed that they were good enough to make it to the Superdome in New Orleans to play for a state championship.
With a record now at 10-0 and the number one seed in their division, the "Why Not Us" belief has spread to the entire town.
The head coach reminded everyone that the road to a state championship is hard and every game from this point on will be tough.
"At the second round, there is nothing but good teams," he said. "At the third round and on, there are nothing but great teams. It will come down to who makes the fewest mistakes and has the fewest penalties."
Although Roark has never been in the position of being ranked number one and having a bye week, he said they used the week off to heal up from injuries and to work on individual skill work.
"Am I thankful for the bye week? Yes," he said. "But at the same time, I think there's a benefit to playing that first week also as it helps you stay in rhythm."
Jena's previous 10-0 seasons did not fare well, losing in the second round one time and the first round the second time. The coaches, team and all of Jena are believing that "third time's a charm."
"We want to go further than we've ever been," Roark said. "But to do that, we'll have to stay focused and know that it's not about them, it's about us, and to play perfect we have to practice perfect. In the playoffs, we can't take anyone lightly." A change in the playoff homefield system this year allows the higher seed to remain at home. This change means that Jena will never have to travel until the championship game in New Orleans on December 8.
Coach Roark said playing in front of the Jena crowd is the best experience he has ever been a part of. He said that his team will need the energy and large crowds at every home game to help propel them through the bracket.
"I just can't express how appreciative we all are of the tremendous support our fans give us whether on the road or at home," he said. "But there is just something about playing in our stadium with our home crowd as loud as they can get. And trust me, the teams that will be coming to Jena are going to be tough, so we'll need a packed house at every game."
A packed, loud house will help the team keep winning and keep hosting playoff games.
"That is something that has never happened either," Roark said. "A quarterfinal and semi-final home playoff game. I want so bad for our players and this community to experience that."
If they do, this historic senior class will continue to break records and go down as the most prolific and decorated team in the history of Jena Giant football perhaps with a State Championship trophy to close the history books.