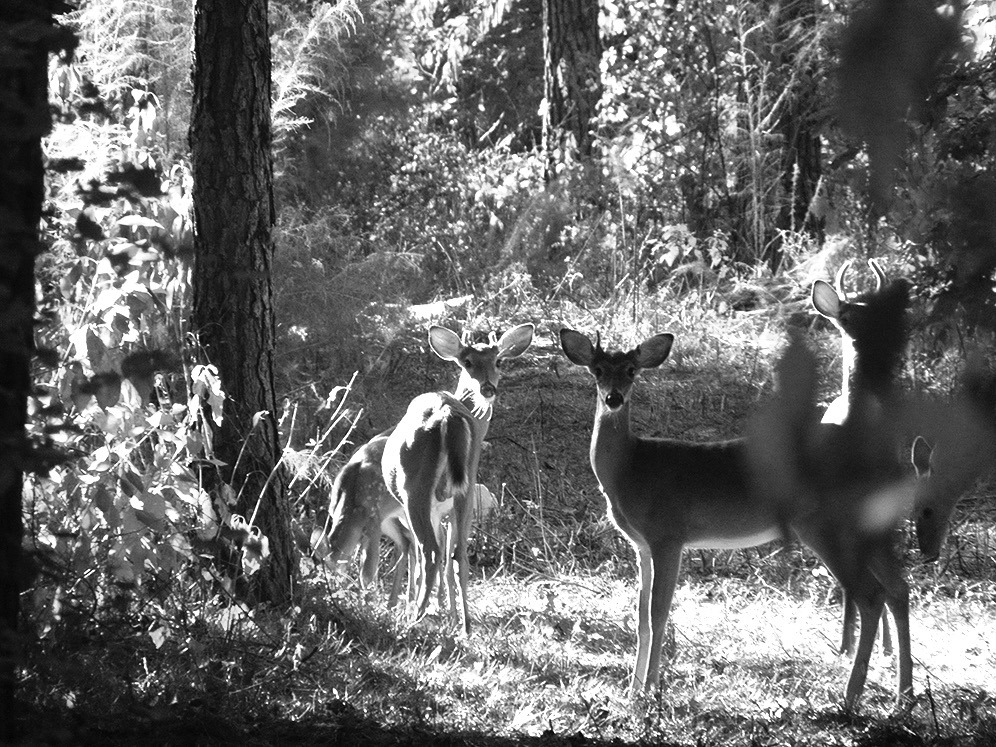 Deer/Vehicle Collisions Increase
On Thanksgiving Day years ago, I was driving my truck home through Bienville Parish after a holiday visit with my folks when a big buck appeared out of nowhere and I hit it. I drove home with one headlight and a smashed grill.
Fast forward a dozen or so years. I had my second encounter with a deer when a spike dashed into the path of my car in Natchitoches Parish. That's two collisions with a deer so far during my lifetime. If I was driving in W. Virginia, the leading state for deer/vehicle collisions over the next 12 months, my chances of hitting a deer would be one in 38.
I suppose I've been fortunate to have only collided with two deer but others have not been so fortunate.
Why are such encounters becoming an increasing problem? For one, there are more drivers on the road. For another, the deer population is growing all across the country and when you see deer habitat giving way to urban sprawl, it's inevitable that such encounters will increase. Need proof? All you have to do is drive a few miles along the interstate or on roads leading into town and count the deer carcasses you see.
The majority of deer/vehicle collisions occur in states to the north, many of which have restrictive hunting regulations and short deer seasons. The top ten states where most collisions occur in order of frequency are: W. Virginia, Montana, Pennsylvania, Michigan, Wisconsin, Iowa, Mississippi, South Dakota, Virginia and Missouri.
Authorities estimate that over the past two years, 1.8 million deer/vehicle collisions have occurred across the country.
State Farm Insurance Company has provided some tips and words of caution to help prevent deer/vehicle collisions.
Be alert to deer crossing signs; they're there for a purpose.
Don't swerve. If a car crash is inevitable, maintain control of your vehicle and don't veer off the road.
Brake as necessary. If you can avoid hitting the animal, reduce your speed, honk your horn and tap your brakes to warn other drivers. If there are no other drivers behind you, brake hard.
Remember peak season. Animal collisions happen most during October through December, which is hunting and mating season.
Remember mealtime. Watch for animals in the road between dusk and dawn…
Watch for herds. If you see one deer, there are probably more nearby.
Don't use a whistle. No scientific evidence supports that car-mounted deer whistles work.
One of those deer/vehicle collisions a few years ago affected me in a very personal way. I had cataract surgery that summer on both my eyes resulting in clear vision like I had not had since I was a teenager. I was elated with the results, and I owe the removal of my clouded lens and replacement with new clear ones to an individual I came to practically hold in reverence, Dr. William Steen, founder of the Steen-Hall Eye Institute in Shreveport who performed my surgery.
A few weeks after my last surgery, Dr. Steen was riding to work on a beautiful fall day on his motorcycle just outside the Shreveport city limits when a buck dashed into the cycle, throwing Dr. Steen to the pavement, resulting in injuries that took his life. I am devastated by the loss of such a gifted surgeon and urge caution when you get behind the wheel or crawl on your bike.
A deer is a beautiful, graceful animal when seen from your deer stand but not when one is making a bee-line for your vehicle.
FISHING REPORT
BUSSEY BRAKE – The big bass continue to be caught with some to 11 pounds caught on jigs and soft plastics. The crappie are beginning to improve around the brush. Bream have slowed. For latest information, contact the Honey Hole at 323-8707.
OUACHITA RIVER – Both bass and crappie ae starting to move to the deeper sloughs now that temperatures are dropping. Fishing has starting to improve. For latest information, contact the Honey Hole Tackle Shop at 323-8707.
CANEY LAKE – Bass are starting to move deeper and will soon be set up just out from the spillway where jigs and spoons will start producing. Crappie have been best around the deeper tops on shiners or jigs and they will also be headed for deeper water out from the dam as temperatures drop. For information contact Caney Lake Landing at 259-6649, Hooks Marina at 249-2347, Terzia Tackle at 278-4498 or the Honey Hole Tackle Shop at 323-8707.
LAKE POVERTY POINT – Catfishing has been good. Crappie fishing has improved on the south end of the lake. Bass are fair. For latest reports, call Poverty Point Marina at 318/878-0101. For information, call Surplus City Landing at 318/467-2259.