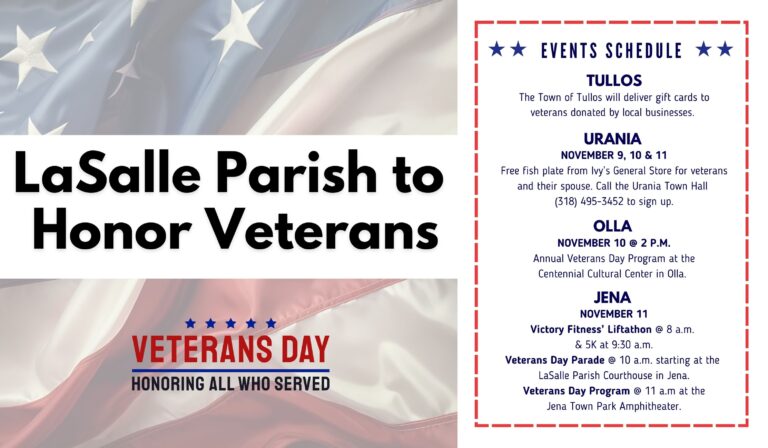 LaSalle Parish to Honor Veterans
The official LaSalle Parish Veterans Day program will be held Saturday, November 11, at the Town of Jena Park Amphitheater and all veterans are asked to participate as well as residents who will honor them for their service.
Veterans are requested to ride in the annual Veterans Day Parade, set to roll through downtown Jena at 10 a.m. Saturday. Event organizers asks that veterans please assemble behind the LaSalle Parish Courthouse prior to the parade where floats with chairs will be available to ride in the parade.
Residents are asked to line the streets of downtown Jena as the parade route leaves the LaSalle Parish Courthouse, travels south on LA 127, turns east on US 84 where it will continue to the town park. The Veterans Day program will begin at 11 a.m. with Ralph McCrory, LCDR, US Navy, Retired, will serve as the Master of Ceremonies.
The program will include a prayer by Rodney Russell, LTC, US Army, Retired-Iraq/Afghanistan Veteran, followed by the official welcome by Jena Mayor LaDawn Edwards.
The Veterans Honor Guard will present the colors, after which Steve Thomas, VFW Post 5002 Commander-Staff Sergeant Gulf War Veteran, will lead the crowd in the Pledge of Allegiance.
Emily Allen will sing the National Anthem prior to the keynote address being delivered by Staff Sergeant Jeffery Robinson, Appellate Judge-Second Circuit Court of Appeal, Shreveport.
Robinson is a veteran of the United States Army, Louisiana National Guard, having served from 1987-1993. He served with the 1086th Transportation Company from Jena during Operation Desert Storm.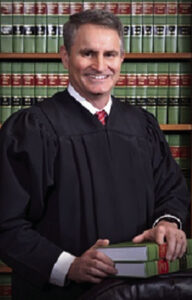 He is also a lifetime member of Veterans of Foreign Wars and has served as Appellate Judge since 2021.
Following the speech, Russell will provide the Recognition of Patriots Pen, Voice of Democracy and then Larry Campbell will recognize the winners of the LaSalle Parish schools' essay contest.
The Veterans Honor Guard will then present the Soldier's Cross Tribute to Fallen Comrades followed by the 21 Gun Salute and the playing of Taps.
McCrory will then provide closing remarks and Thomas will provide the benediction to conclude the program.
MORE VETERANS EVENTS
The Town of Urania will be providing all veterans and their spouse with a free fish plate from Ivy's General Store November 9, 10 and 11.
Urania Mayor Jay Ivy said veterans may sign up for the free fish plate at the Urania Town Hall and then pick up their plates on one of the three days.
For more information, contact the Urania Town Hall at (318) 495-3452
The Town of Tullos will be delivering gift cards, donated by local businesses, to all veterans in their town as they honor their veterans.
For more information, contact the Tullos Town Hall at (318) 534-6499.
The Town of Olla will host their annual Veterans Day program on Friday, November 10, beginning at 2 p.m. at the Centennial Cultural Center in Olla.
The program always features many patriotic events and focuses on one veteran from the Olla, Urania or Tullos area.
For more information, contact the Olla Town Hall at (318) 495-5151.
On Veterans Day, November 11, a special 5K and Liftathon event hosted by Victory Fitness in Jena, will be held in memory of Joe Peppers, former Jena resident, National Guard soldier and Gulf War veteran.
Peppers was an active member of the fitness gym and is described as a "loving friend and brother." All proceeds from the Liftathon and 5K will be given to the LaSalle Parish Veterans Honor Guard.
The Liftathon will begin at 8 a.m. November 11 at Victory Fitness located at 1739 S. Fourth Street in Jena. Around 9:30 a.m., the 5K will begin, starting at Victory Fitness and ending at the Jena Town Park's amphitheater just prior to the Veterans Day program beginning.
Organizers are requesting that those wishing to participate to please pre-register by calling Victory at (318) 992-0619 or stop by the gym Monday- Thursday, 10 a.m. through 6 p.m. Registration may also occur the day of the event, however, participants are encouraged to pre-register.
Medals will be given out prior to the start of the Veterans Day program set to begin at 11:00 a.m. at the Jena Town Park Amphitheater.
For more information, please call (318) 992-0619.
Finally, parish Veterans Day events will conclude the following weekend as on Saturday, November 18, the annual Veteran Appreciation and Tribute at New Evergreen Baptist Church in Jena will be held.
The lunch and fellowship will begin at 12 p.m. with a delicious home cooked meal for veterans and their families and friends.
It is sponsored annually by the Dorsey family and will remember and honor veteran Charles E. Dorsey, who recently passed.
New Evergreen Baptist Church is located at 1190 Church Street in Jena. For more information, call (318) 992-2594 or (318) 312-0330.